Why do we still need an article about digitalisation?
The word digitization is no longer the issue these days. It is used in every imaginable context, in political speeches, in corporate strategy meetings, and often in inflationary terms. In order to really understand what digitization means, you have to look at it in more detail. Here we explain what is meant by digitalization, give an insight into the history of digitalization and show what digitization means in the corporate context. We also go into the digital transformation and how it can be successfully implemented and want to shed light on the darkness of digitalarticles.
What exactly does it mean to digitize?
Digitizing is understood to be to bring analog documents or actions into online form. In the narrower sense, this means creating physical actions, things or media as a digital version. Examples include paper forms that must be filled out by hand, converted to digital files or offered as online forms. In a broader sense, digitization has several meanings, which we will explain in more detail in the course of the article. It was made possible by the digital revolution and the emergence of Industry 4.0.
In summary, digitizing means all changes that are made as a rising use of digital devices.
What does digitization include?
Digitization means something different for different groups of people. An official definition summarising all perspectives has yet to be made. But there are already many attempts to describe what digitalization encompasses.
For customers, for example, digitalization means improved service, for IT professionals the implementation of new systems and for employees either a simplification of work processes or a threat.
Digitalization, on the simplest level, initially involves converting analogue media into digital media. Music on cassettes, for example, becomes streaming via Spotify and books become ebooks. Here, as already described in point 2, digitization simply involves the digitisation of physical objects.
If you go one step further, digitalization also includes the networking of devices. Items are smart and enable communication with each other and the construction of entire smart homes. A refrigerator that writes the shopping list on its own; the car, which is already preheated via app before you get in or the light that can be switched off via the smartphone, should be forgotten when you leave the house: these are just a few examples of how the Internet of Things changes our everyday lives.
In addition, the changes in corporate processes fall under the concept of digitalization. The traditional workplace is changing. This change is also called the digital revolution, parallel to the industrial revolution, in which the world of work has also changed drastically.
Communication in the private and professional context is also affected by digitalisation. The emergence of social networks, messenger apps and email traffic have significantly changed the way we communicate. Suddenly you can be reached around the clock and can connect with other people from anywhere in the world – all with a user-friendly interface and intuitive operation and mostly even free of charge. Where in the past long waiting times for an answer were common, today one usually expects an answer within a few hours. This offers many advantages, as workflows can be accelerated and feedback can be given regularly and implemented on time. Questions can be answered more quickly and, in case of ambiguity, meetings can be convened easily, even with remote teams. In addition, this also offers many opportunities in private life to stay in touch with friends and family members and to meet new people. However, many feel pressured by this.
In addition, digitalisation is also changing teaching and education. Information is available everywhere and the Internet offers various opportunities to further education, to learn new skills or even to retrain completely. At school, the curriculum needs to be adapted to digital change, as young people are now expected to have very different skills.
Digitization also dissolves the boundaries between reality and virtuality. The virtual and augmented reality sector is also covered by digitalization. VR glasses are the most well-known use cases here and offer possibilities, such as virtual shop tours or virtual city tours.
Voice and gesture control is another area covered by digitalisation. Voice search is becoming more and more popular, meanwhile just over 40 of the Germans are already using the voice search via Siri, Alexa and Co.
Digitisation therefore covers all areas of society, economy and politics. There is no uniform definition of this yet, but if you look at different points of view and examples, you quickly get a pretty good picture of what digitization means and encompasses everything.
Thematic focus of digitalization
How has digitalization evolved over time?
Digitisation began in the 20th century. Due to the rapid developments in information technology (IT), everyday and working life has been modernised and optimised accordingly. This age is also called computerization or information age.
Software products and computer networks, such as office programs or enterprise resource planning systems, have been and are being developed and also offer many new opportunities. Innovative business models have been created as a result and disruptive technologies are typical of the turn of the millennium. Digitalization is particularly popular with concepts such as automation, flexibility, individualization and the Internet of Things (IoT">IoT).
In the meantime, almost 90 of Germans use the Internet every day and at least half of all small and medium-sized enterprises also offer their products for purchase online. This is also a good thing, as more than 90 of the customers search online for information about the product, for ways to buy and for services. In addition, about 60 of Germans today use online banking, which also makes online shopping easier and makes it possible to move from brick-and-mortar to online retail.
These figures show how fast digitalisation has progressed and that it already covers most areas of life.
What is digitalization in companies?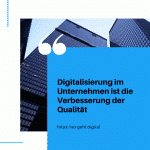 Due to the strong penetration of society with digitalization, companies also have to rethink. There are two sides here: the digitalization of the company itself, i.e. the conversion from analogue workflows and documents to digital technologies, as well as the alignment of the offer with the digital customer.
Digitalization offers many possibilities in the company itself. The acquisition of information is greatly simplified and accelerated by the Internet, workflows and working hours can be clearly documented in simple programs, offers find in addition to stationary retail further sales channels and machines can be controlled and serviced remotely, to name just a few of the potentials. Digitalization in companies also makes new ways of working, such as home office, flexible working hours or even entire remote companies without a fixed location possible. This leads to a better work-life balance, more motivation and loyalty to companies and increased creativity, productivity and innovation. These aspects of digitalization also offer a decisive advantage over competition in the competition for young talent.
In addition, communication can be significantly improved both internally and externally through the use of digital technologies. Information losses are reduced, team cohesion is improved and communication with partners and customers is smoother. This is made possible, for example, by using collaboration tools, project management tools, chats and the use of social media and co.
Another benefit of digitalization in the company is the improvement of quality through more regular quality controls. The quality can be easily, quickly and clearly documented and a deviation of this can be noticed before the product reaches the customer. In the meantime, these processes are often automated, which makes the controls even more reliable and also offers the possibility to do so around the clock. Due to the automation of quality controls, these are usually also carried out more frequently and are firmly integrated into processes as a regular step. The quality of production by robots also remains consistently high, as they are not subject to daily performance fluctuations. It also avoids human error, which is otherwise completely normal. In addition to automation, there are several other ways in which digitalization can increase quality, but this should serve as an example.
Many companies also value digitization for the benefits for controlling, planning and organization. Applications where you can work together from different locations in real time, for example, facilitate the planning and control of projects. The organization of documents on company servers is much clearer and allows a better search than in classic archives and also allows employees who are not on site or sitting in another part of the company building to quickly access the required documents.
The biggest challenge for digitalization in the company is to approach the process strategically. It is not easy to jump headless on every move and thus chase the trends rather than simplify workflows and promote innovation is important for a sustainable digitalization of the company, which really leads to the desired successes. For this, the prerequisite is to first set yourself a goal that one wants to achieve with digitalization. Measures can then be targeted and costs for unnecessary measures that sound nice but do not lead to the goal can be saved. Digitization in the company is also not to be seen as a one-off project, but as an ongoing process.
Digitalization is both an opportunity and a challenge for HR departments. Employees also need to be able to handle digital technologies in order to be able to use them in a successful way. But not only the correct handling of them, but also the acceptance of employees in the face of new programs and tools is often an obstacle. It is therefore important to select new employees not only according to professional experience, but also according to digital competence, and to train existing employees in the new applications if necessary and to promote their acceptance and motivation to use them. Otherwise, even the best digital technologies will be of no use if none of the employees are behind them. Digital forms of learning and gamification for further education are also a major topic here. Digitalization therefore always has something to do with the corporate culture.
There are also numerous opportunities for digitizing companies to meet changing customer needs. An important aspect is that digitalisation makes it possible to open up new markets.
New ways of purchasing and sales can be used and the purchase of a product is now faster and easier for the customer than in traditional retail. Once the purchase decision has been made, only a few clicks separate it from the purchase of a product, provided the company is digital. So you have to have an online shop! For many companies, this is the most obvious response to digital change. But before resources are spent on the institution, the target group should first be considered. Is an online shop really desired?
Even if this is not the case, a company has numerous opportunities to respond to an increasingly digital society. The presence on the Internet via own professional website or well-maintained profiles on social networks, additional contact options for customer service, such as live chats or 24/7 availability through chatbots and online request forms are just a few examples of how companies respond skillfully to changing customer needs. Even completely new business models are made possible by digitalization.
The biggest challenge here is to get to know the customer and his wishes and needs and to stand out from the competitors through appropriate offers that really solve his problems.
Digitization in corporate departments
Why is digitalization so important in the first place?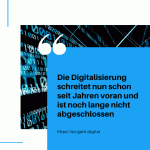 Digitisation has been progressing for several years now and is far from being completed. Nevertheless, not everyone has understood why it is important to digitize at all.
First of all, it should always be decisive in all areas of our society to inform oneself, to update one's knowledge and possibly to optimize accordingly. This can and should be done at individual level, in communities or at the state level. For companies in particular, monitoring environmental changes and alignment is crucial for success and longevity. If you look at a single company in itself, it may be possible to work with outdated tools and programs for a few more years without the disadvantages. However, even these tools and programs will no longer work at some point, as they no longer receive updates and are no longer compatible with other programs. You should not wait that long, but rather start renewing before it is too late. Decisions and investments can thus be made more thoughtfully and strategically, and responsive companies become acting companies.
Another reason for the importance of digitalisation is competition. Digitize all competitors will most likely have a better service, more efficiency and more productivity than their own company, and so over time you will fall far behind the competition. If you start digitizing at this point, the advances are hard to catch up on and the competitors have long been dominating the market.
Even if you as a company should not follow every trend, it is still important to observe your environment, learn from it and decide what is only a trend and what will remain in the long run. Digitisation has definitely come to stay and will continue to evolve in the coming years. For this reason, it is important to optimize regularly and adapt the business model to the environment.
A not inconsiderable reason to digitize is also economic efficiency. Digital technologies offer countless ways to save costs and increase efficiency. The networking of the company, both externally and internally, is also improved by new communication possibilities, information can be exchanged better and faster and transparency is increased. This makes companies more credible and employees are more likely to stand behind the company if they always know what it is.
One last reason why digitalization is so important is the competition for young talent. A digital company can also increase the attractiveness as an employer. New work is the buzzword here. Flexible working hours, home offices and state-of-the-art equipment and premises are increasingly demanded by young professionals and are often decisive for which employer to choose.
In addition to the economy, it is also important for states and politicians to promote digitalisation. If a country is to remain attractive as a business location, the emergence of new business models must also be made possible through appropriate laws and subsidies. Moreover, the promotion of innovation should not be held back by too many regulatory circumstances in order to be interesting in the long term in an international comparison, both as a business location and as a place of residence.
Which companies benefit from digitalization?
Digitisation can be felt everywhere, especially in the economy. Financial markets are also changing. From their development, it can be deduced which companies particularly benefit from digitalization.
First of all, all companies in the field of automation, whether software or hardware, are a clear winner of digitalization. The demand from other companies for automation solutions to become more digital themselves continues to grow and the market will continue to grow. Demand for industrial robots, for example, is expected to grow by 14 percent by 2021.
Fintech companies, too, only really gained momentum through digitalization. Especially in the area of financial services, companies have been able to use technical progress to displace old business models. Industries that benefit most from digitalization are also grouped under the term Evolving Economy.
Another industrythat benefits from digitalization is clean technologies. The desire for sustainability and environmentally friendly solutions is growing. Faced with climate change and the desire to protect the environment, many new technologies are being developed here that would not have been possible without technological progress. The demand for clean technologies has also increased as people become more aware of the problem of climate change, they can network online on climate and sustainability issues, and the desire for nature and tranquillity grows in the process of moving life into the online world.
Digitisation, the shortage of skilled workers and an ageing society: Three topicsthat are currently constantly present lead to the success of companies in the ageing and lifestyle sectors. What used to be taken over only by humans is now supported by artificial intelligence due to the shortage of skilled workers in many old people's centres, care facilities and hospitals. Work is automated and the shortage of nursing staff is intercepted in order to enable everyone to provide appropriate care despite the increase in seniors. Digitisation has made a great deal of difference here, because without the development of new technologies, none of this would have been possible. Digitalization also offers new approaches in health care and innovative business models have been developed from this change. People know that they are getting older and want to take care of them in order to have a fit and beautiful life even in old age. This desire, combined with the possibility of digital technologies, has led to the development of numerous new companies.
The general healthcare industry also benefits from digitalisation by enabling costs to be saved while still ensuring high-quality care for patients.
Another industrythat benefits from digitalization is everything in the field of beauty, fitness, travel and entertainment. Through social media and social change, a lot of emphasis is placed on a healthy and fit body, as well as on the outside and investing accordingly. Spending time and money on your own body is no longer seen as vanity or even superfluous, but as an investment in oneself and as a basis for success and performance. Social media reinforces this attitude even more. The same applies to travel and entertainment. Experiences are now considered far more important than things and are staged and shared on social media. In order to be able to post beautiful pictures and not to miss anything, more and more money is being spent on travel and entertainment. The evolution of technology also offers numerous new possibilities in all four areas and makes beauty treatments, for example, more effective or travel easier to book and more exciting and exciting thanks to digital possibilities on site. As a result, companies in these areas are winners of digitalisation and, above all, of social networks.
But small businesses can also benefit from digitalization. Just because a company is not part of these typical "winner industries" or is small or medium-sized, that does not mean that digitalization puts them at a disadvantage. The opposite is often the case, as we have already seen above in point 4. However, for small businesses to be successful and benefit from digitalisation, they need to pay particular attention to a few things.
Manual activities, which are very time-consuming and error-prone, can also be digitized in small businesses, for example. This achieves cost savings and higher accuracy. The freed-up resources can in turn be invested in other business-enhancing tasks. In small companies, time registration, payroll accounting, spreadsheets, or contracts are often automated. The corresponding applications are usually integrated relatively quickly and cost-effectively and thus also allow SMEs to benefit from digitalisation.
Another advantage of digitalization for small businesses is the possibility to meet customer needs even better. Compared to large companies, SMEs are more flexible and faster in decision-making, as well as usually closer to the customer. This enables them to get to know the customer better and to find out more precisely what values, needs and problems their target group has. Products and services can thus be developed in a customer-centric manner and the value proposition can be optimally adapted to the target group. Digital technologies support this. In market research as well as in later customer-centric development, new technologies can be a great support and also enable small companies from all industries to benefit from digitalization.
So small businesses should not shy away from digitalisation and be afraid of big investments. These are usually not necessary and with a clear strategy in mind, only those parts of the company that really lead to the goal can be digitized, while the investments remain manageable.